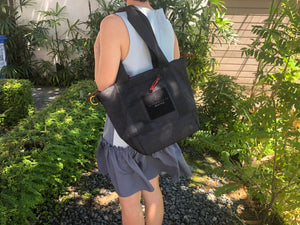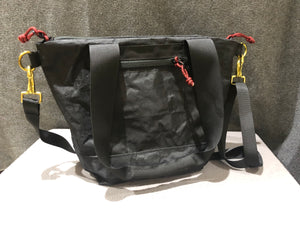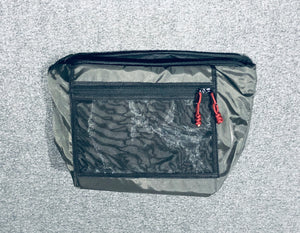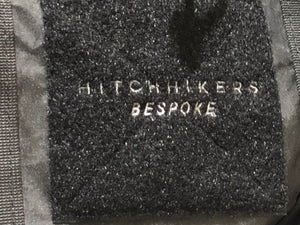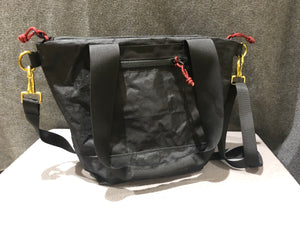 Black Dyneema Hitchhikers Tote, Ladies focused
Ladies have their Longchamps Le Pliage and Louis Vuitton Neverfull. These classic bags are staples in many women's wardrobes. The clean, lines and ease of use makes the bags extremely versatile and suits almost any environment from the casual supermarket run to night outs with the girls. 
So.... at Hitchhikers, we took reference to the sizing of some of the Le Pliages that the ladies in our lives own and applied it to our Hitchhikers Tote. The regular Cordura has also been replaced with the black 5 oz Dyneema composite fabric CT9HK.18 material to save weight and extra water resistance. Despite the high price of the composite fabric, it is certainly starting to win us over. The composite fabric does crackle and make little noises but it has that unique feel to it. The fabric, being used for sails and such, is stiff enough to keep the structure of the bag with ease, yet at the same time, flexible enough for our application is packs and gear. Aesthetically, it looks poised and comfortable is most urban environments that you would expect this tote to go. 
As with the rest of our totes and packs, the internal details are not left out. A large mesh compartment for letters, papers, spare face masks or larger items on 1 side. On the other side are compartments for power banks, sunglasses, pens, torchlights and other nick-naks. The exterior looks exactly the same as our other totes, 2 smaller external compartments for keys, cards, packets of tissue paper and such. A single loop area embroidered with Hitchhikers for further personalisation. Longer carrying handles foe shoulder carry with the distinctive short yellow handles for the quick pick up and go situations. A removable cross sling for longer journeys or travelling. and brass attachment points for further personalisation. We also feature for the first time, the dual tail to tail zipper configuration for the main compartment for ease of opening and closing regardless of whether the tote is on the left or right shoulder. 
Features:
●

 
Large main compartment with dual tail to tail zip that comprises a variety of internal compartments for neat sorting of stuff
●

 
Front and back zipper pockets
●

 
10 cm x 10 cm (about 4 inch x 4 inch) loop area for personalisation
●

 
A wide and long padded handle for shoulder carry. A short handle for hand carry
●

 
Brass D rings for attaching cross body slings and other small items
Materials:
●

 
5 oz Dyneema Composite fabric CT9HK.18
●

 
Brass D rings and hooks
Dimensions:
●

 30
 cm (H) x 25 cm (W) x 15 cm (D) (about 12 inch x 10 inch x 6 inch)