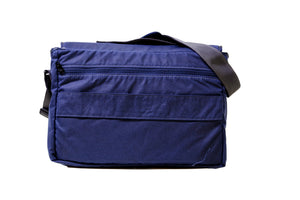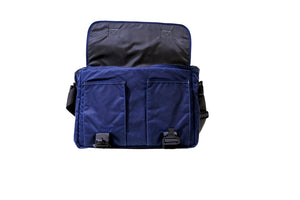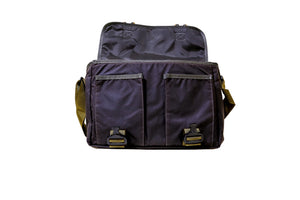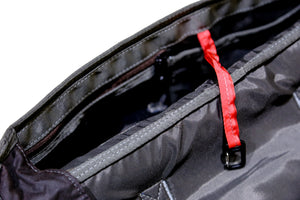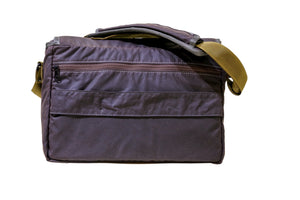 Hitchhikers Satchel
    The Satchel is HitchHikers's take on a satchel built for deskbound meat eaters. There are many satchels out there in a wide range of materials. Few however, combine the confidence inspiring AustriAlpin CobraTM buckles with the charm of waxed canvas fabrics. The Satchel does just that.

    Clean aesthetics, high quality, durable materials with thoughtful features define the Satchel. We designed just the right number of features for this one without being overly complex. This is another product we take pride in saying "Designed in Singapore". 
     The Satchel is approximately 10 litres, measuring 36 com in width, 25 cm in height and a thickness of 11 cm. It is made with renowned Halley Stevensons P200 EverwaxTM Dry waxed cotton canvas, 38mm military specification webbing, all aluminium loops and triglides along with 2 renowned AustriAlpin 38mm CobraTM Buckles. 
     The front exterior is clean to allow the user to blend into any environment. Discerning onlookers will notice the CobraTM buckles, very much like a fancy watch on a gentleman. The CobraTM buckles also ensure the lid does not pop open under heavy load. A top handle for grab and go situation with a 38mm wider shoulder sling for longer carry durations. A removable, cushioned shoulder pad helps to improve comfort levels during extended carry.  
     The rear features a luggage pass through as well as a zipper rear compartment for reading materials and documents. Important and convenient features for the travelling professional. 
     Undoing the CobraTM buckles affords access to 2 front pockets. These are designed for small items such as sunglasses, access passes, earphones, hygiene products such as napkins and sanitizers. 
    In the main compartment, there is a large padded zipper compartment where laptops will go into. On the opposite side of the laptop compartment, there are 2 small pockets, a zippered mesh compartment for portable batteries and a sleeve for writing instruments, etc. There is also a high visibility lanyard with a clip to attach keys. The lanyard is intentionally made to be highly visible to aid the user in locating the lanyard and therefore keys.  
     Exceptional focus was placed on the materials used as well as the features. The LC is built for the discerning professional taking on the world while blending into the environment. 
Features
2 AustriAlpin 38mm CobraTMbuckles
38mm wide, adjustable shoulder sling with shoulder pad
Top carrying handle
Luggage pass through
External accessible rear compartment
2 gusseted front pockets
Large main compartment with:

Internal padded compartment on rear
Zippered mesh compartment on front
Sleeve with high visibility lanyard on front
Materials
Halley Stevensons P200 EverwaxTM Dry waxed cotton canvas
AustriAlpin 38mm CobraTMbuckles
Aluminium loops and triglides
38mm military grade webbing
Dimensions
14" (W) x 10" (H) x 4.5" (D)
Capacity approximately 10 litres
Weight
Waxed Cotton Canvas: 0.8 kg
Proudly Designed in Singapore!